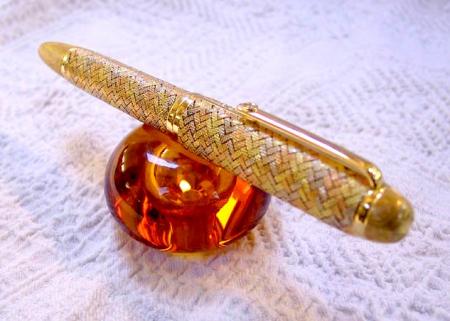 Valeria Matta, la seule marque belge de stylo
QUI ?

Valeria Matta est une marque belge de stylo haut de gamme et d'accessoires d'écritures.

COMMENT ?

Valeria Matta existe depuis le 14 février 2001. L'idée de créer une ligne propre d'écriture surgira durant l'hiver 2000.

QUOI ?

Nous produisons de luxueux stylo plume, stylo roller, stylo bille et porte mine. Ainsi qu'une gamme d'encriers et de caves à stylos.
Valeria Matta, the only Belgian brand of fountain pens
Who ?
Valeria Matta is a small company who develops the design of pens and his accessories.
How?
We exist since 14th February 2001. The idea came during December 2000 when we wanted to create our own products and with our ideas.
What?
We sell luxury fountain-pens, roller-balls, ball-pens, mechanical-pencils, marvellous pen-cellar in leather or in wood and wonderful ink-pot in crystal and silver.
---
Valeria Matta het enige Belgische merk van vulpennen, Havana van het schrift
WIE?
Valeria Matta is een Belgisch merk van van kwaliteit vulpen en toebehoren van schriften.
HOE?
Valeria Matta bestaat sinds 14 februari 2001. Het idee zal om een eigen lijn van schrift te creëren tijdens de winter 2000 plotseling verschijnen.
WAT?
Wij produceren van luxueuze vulpen veer, vulpen roller, ballpoint en dragen mijn. Evenals een reeks van inktpotten en kelders aan vulpennen.
---
100 % STERLING SILVER 925 AG
STEEL NIB
1 SIZE
SILVER LINE
BLACK LINE
BLUE LINE
GREEN LINE
GREY LINE
---
WHITE GOLD 18 Kts NIB

Fine

Medium

Broad
SATINE / NOIR BRILLANT
BRILLANT / NOIR SATINE
SATINE / NOIR SATINE
BRILLANT / NOIR BRILLANT
BRILLANT / METAL BRILLANT
SATINE / METAL SATINE